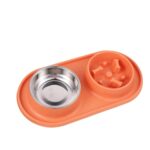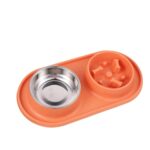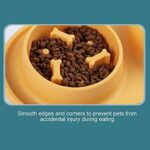 Double bowl design: silicon and slow-speed anti-suffocation feeding bowl, combining the two bowls, cleverly designed, feeding food and water, or multiple pets (color may vary)
₹599
Double bowl design: stainless steel and slow-speed anti-suffocation feeding bowl, combining the two bowls, cleverly designed, feeding food and water, or multiple pets. It saves space and is very convenient.

Food grade material: It is made of food grade material like silica gel, resistant to high temperature. Round edges and corners to prevent pets from accidentally hurting just after eating. The 201 stainless steel bowl is made of food-grade solid and can be used for a long time.

Slowly feeding dog bowl: The unique flower barrier design increases the difficulty of eating. The bulging bowl can extend the meal time, prevent indigestion, swallow and control weight.

Save space: They not only save space for the dog bowl, but also make cleaning easier. Stainless steel bowls can solve the problem of pets drinking water, and slow food bowls can control the amount of pets eat, and really consider the health of pets.

Slow food habit development: The highly convex shape in the food are slow, and the food is scientifically separated so that the pet's mouth will not touching the large area of the food, so that the pet can slow down the eating time and better cultivate the slow food habit.
Add
₹

2,499
to cart and get free shipping!
Out of stock