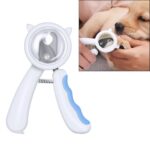 Premium Nail Clipper for Cats, Dogs, Puppies, Kittens. Anti-splash Pet Nail Clippers Stainless Steel Beauty Cleaning Supplies Pet Nail Supplies
₹899
Sharp blades that let you work faster, with less effort.
Cut the nail cleanly without ragged edges that have to be filed.
If your dog or cat is skittish about the process, this will make both of your lives happier.
You'll be more likely to keep his nails trimmed, allowing him to walk comfortably and helping prevent damage to your floors and furniture.
1. Weight: 73 g
2. Material: stainless steel
3. Dimensions: 9 x 12 cm
4. Features: sharp and durable, anti-splashing armor, comfortable grip
5. Applicable objects: large and medium-sized pets
Note: The colour of the product may vary from the one shown in picture.
Add
₹

2,499
to cart and get free shipping!
In stock